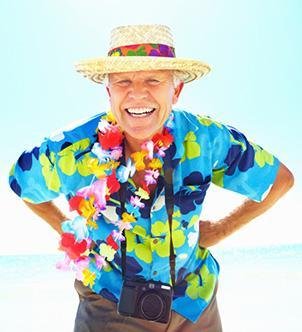 Restoring a smile is one of the most important things we can do as a dental care provider. Patients often experience decay, disease, or dental trauma that can result in losing one or multiple teeth. However, that doesn't mean the end of a beautiful smile.
There are many types of restorative dental treatments. At Carroll Dental Care, we're pleased to be able to offer our patients the choice between dentures and dental implants.
Dentures: The Quick Teeth Replacement Solution
Dentures are prosthetic devices made to replace missing teeth. They are supported by the surrounding soft tissues in the mouth and are often removable at night, though they are held in place by dental adhesive during the day.
Pros
Procedure is quick: Being fitted for dentures is quick and painless, usually only taking 2–6 weeks at most.
Look and feel like natural teeth: Dentures are designed to look and feel like real teeth. We may even be able to give you custom-made dentures for an extra natural look.
Affordable: They are a very affordable teeth replacement treatment. Traditional dentures are the most cost-efficient way to restore a full set of teeth.
Improve food consumption: Dentures make it easier for patients to consume certain foods that are difficult to eat without teeth.
Cons
Might not be a permanent solution: Missing teeth cause a patient's facial structure to change over time. This means your dentures will have to be replaced every few years to adjust for your changing jawbone.
Require adjustment period: Dentures rest on your gums, so wearing dentures will require getting used to. This includes eating with them and speaking with them.
Potential slipping: It's important that dentures fit properly or there might be discomfort and a reaction from the soft tissues of the mouth. You must also ensure you use proper amounts of denture cement each day to avoid the dentures slipping out of place.
Dental Implants: Replace Your Teeth from Root to Crown
Dental implants are surgical components that are inserted into the jaw bone where they interface with the jaw directly, acting like the root of a natural tooth. They support dental prosthetic devices like a single tooth crown, bridge, or even a full set of dentures.
Pros
Look and function like real teeth: Implants are going to function and look just like real teeth. They are securely bonded to your jawbone, and will keep your new teeth in place.
Long lasting: With proper care, dental implants will last a lifetime. Your jawbone will grow around the implant post until it bonds to become a sturdy part of your jaw.
Prevent bone loss: Because implants act like the root of a tooth, they stimulate bone density and growth in the area they're placed. This keeps your jaw healthy and strong.
Easy to take care of: Your implant-supported tooth restorations can be cared for just like any regular tooth with regular brushing and flossing.
Cons
Certain requirements must be met: In order to qualify for dental implants, you have to meet pre existing parameters, including adequate bone density in the jawbone.
Procedure can be lengthy: Placing implants can take a while, usually spanning several months between placing the implant, healing time, and securing the tooth restoration.
Cost is higher: Treatment is generally more expensive up front than other options. However, they are least likely to ever need replaced in the future, unlike traditional dentures.
Discover Which Treatment Is Right for You Today
Get in touch with our office today to learn more about these two restorative options. Schedule a consultation appointment with us, and we'll help determine which treatment is right for your smile.