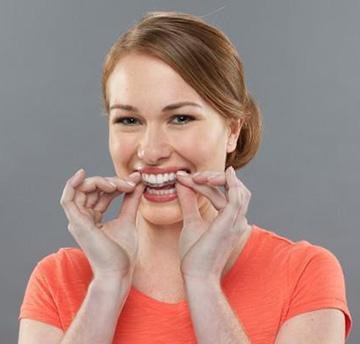 Straightening teeth might seem at first glance to be an entirely cosmetic procedure. However, while it does give patients an aesthetically pleasing smile, straightening teeth also makes it easier to care for and maintain your dental health.
Crooked and misaligned teeth experience unnatural amounts of wear and tear, as well as more issues with cavities than straight teeth. Straightened teeth can be kept free of potential disease and decay more readily through brushing, flossing, and regular dental appointments.
Carroll Dental Care is pleased to offer patients in the Crestwood and Louisville, Kentucky, areas teeth straightening with Invsialign clear aligners. Invisalign treatment is one of the most effective and popular ways to straighten teeth.
How the Invisalign Process Works
The Invsialign process is a simple one.
First, you make a consultation appointment to check and see if this type of treatment is the right course of action for your smile. Clear aligner orthodontics can treat many smiles, but some cases will require a traditional braces approach.
Once you've been approved for Invisalign aligners, we'll map out a plan for straightening your smile and take a mold of your teeth to form your custom aligner trays.
We'll give you a series of clear plastic aligners that, when worn in the correct order, will gradually move your teeth into new positions until you have a perfect smile.
For instance, your first set of aligners will most closely match your current teeth with just a slight adjustment. Then once those aligners fit perfectly, you'll switch to the next aligners. The second set will match your new teeth position with another slight adjustment, and so on—until your teeth are completely straightened.
You'll wear each set of aligners for 20–22 hours each day, and switch them out for new ones every week or so to gradually straighten your smile and align your bite. It's important to keep up on regulating appointments with us because we'll be able to check your progress and make adjustments as needed.
How long it takes differs from patient to patient, but you can be sure that you'll get the straight smile you've always wanted.
Benefits of Using Invisalign Aligners
There are many benefits associated with this type of straightening, including:
Cleaner Teeth: It's easier to brush, floss, and clean teeth with an Invsialign treatment because the clear retainers can be removed for thorough cleaning.
Less Discomfort: Invisalign aligners don't involve metal brackets or wires that poke and prod the soft tissues of the mouth. Instead, they're made of a smooth plastic material so there is minimal discomfort to you as the patient.
Subtle Appearance: Invisalign aligners aren't noticeable. They're clear and designed to fit closely over your teeth. Wear them to anything from important events to nights out on the town and no one will be the wiser.
No Dietary Restrictions: Traditional braces restrict certain foods because they can get stuck in the braces. This is not the case with Invisalign clear aligners. These aligners can and should be removed when eating so that you can enjoy your food during meal times.
While these removable aligners make the treatment more convenient, just be sure you wear them as much as possible during your day to keep the straightening process on track!
Contact Us Today to Learn More
Learn more about Invisalign clear aligners with Carroll Dental Care today when you call in to schedule a consultation appointment. We're looking forward to transforming your smile for the better!